Daily Archives:
December 31, 2013
Established in 1994, JP Guitars stands for "Jack Pimentel Guitars". Sometimes referred to as "JP Guitars USA", we offer a range of services to our customers. Our experience goes back more than 35 years!

JP Guitars offers…
Jack Pimentel has done work for well known musicians including…
Jackson Brown, Joe Satriani, Walter Becker (Steely Dan), Howard Leese (Heart), Paul Rogers ( Free and Bad Company), Buzzy Feiton, Jerry Miller (Moby Grape), Chaz Frichtel (Michael McDonald's Band) and many more!
JP Guitars History
JP Guitars started long before Jack Pimentel opened his shop location in Puyallup Washington. Since his youth, Jack had a fascination with building guitars. Originally Jack started out with a very basic acoustic guitar but desired to own an electric. Unable to afford an electric guitar he put his young mind to work and came up with a plan to make his first electric guitar out of plywood, wall studs and nails for frets! With only a few hand tools he copied the dimensions of his acoustic and ended up with a 335 style guitar including the "f" holes but with no pickups. Even though Jack ended up with another acoustic guitar, he remembers it was playable after all his work.
After a few years of interest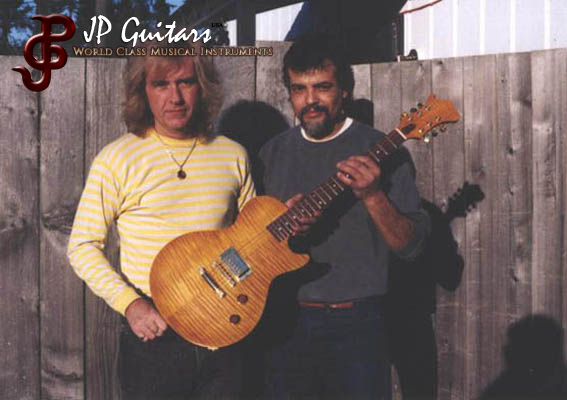 Jack realized his calling and passion for creating musical instruments. Many years later Jack Pimentel attended the National Conservatory of Music in Mexico City and managed to make ends meet by giving guitar lessons on the side. In 1979 he finally started his career as a luthier and repairman in a local music store.
After several years of working with reputable guitar shops in the Los Angeles area and having done work for well known musicians Jack decided to officially start JP Guitars.
In May of 1994 Jack's long sought dream had finally come true. JP Guitars was registered as a business and it's doors were opened! Jack never forgets the driving force behind
the creation of JP Guitars, "My inspiration for JP Guitars was
driven by the demand for quality luthier work."
Today, JP Guitars continues their dedication to quality which has led to the success of its brand.